About the Show
General Information
Novel coronavirus disease pandemic has still been overwhelming the world and it significantly affects both domestic and international foreign physical distribution.
The EC market keeps expanding. As it expands, we have to keep up with the change and we have to deal with serious labor shortage as well. In addition, the logistics industry is required to have less CO2 emissions and improve the working environment, for example, reducing the burden of long-distance driver. Rebuilding management strategies is what the industry needs to work on.
To achieve manpower-saving, reduction of overstocking, and adjustment of providing cost, the role of physical distribution and DX have been gathering attention.
Under the circumstances, we have decided to hold Logis-Tech Tokyo 2022 to be the first step to create "new normal".
This year, the scale of the exhibition will be the biggest ever in its history. There will be both domestic and overseas logistics companies gather with the latest devises, information system, and services.
Logis-Tech Tokyo 2022 is the best platform for those who seek productive meetings, new business, and finding solutions.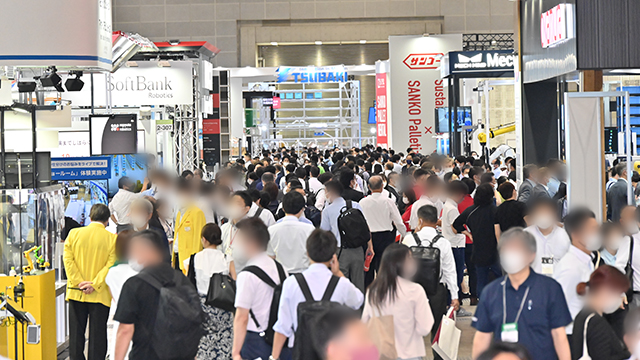 Name of the Show

Logis-Tech Tokyo 2022
Date & Time

September 13(Tue.) - 16(Fri.), 2022 10:00-17:00
Scale of exhibits

526 Companies* / 2,597 Booths (As of 9/2, 2022)

* Including co-exhibitors
Expected No. of visitor registrations

Over 80,000 professionals
Admission Fee

¥3,000

(Admission is free with registration ticket.)
Organizers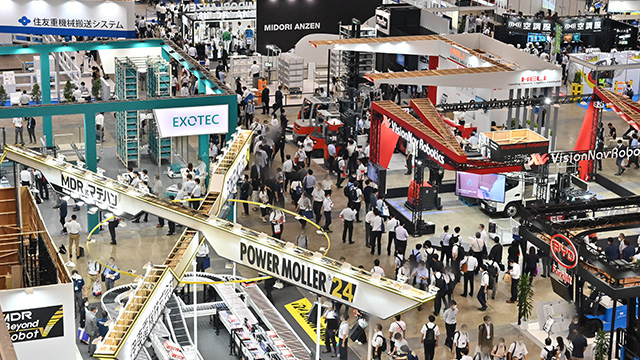 Exhibit Categories
Storage Systems & Equipment

Automated Storage and Retrieval Systems, Racks, Moving Racks, Rotary Racks, Other

Sorting Systems & Equipment
Picking Systems

Picking Carts, Digital Picking Systems, Other

Transfer Systems

Conveyors, Palletizers, Depalletizers, Table Lifters, Cranes, Dock Boards, Chain Hoists, Other

Industrial Vehicles

Forklifts, Automated Guided Vehicles, Scissor Lifts, Attachments for Forklifts and Cranes, Other

Trucks & Specially Equipped Vehicles

Trucks, Specially-Equipped Vehicles, Related Equipment/Parts, Other

Carriers

Carriers, Hand Trucks, Casters, Other

Pallets & Containers

Pallets, Containers (Transportation/Packaging),
Load Shifting Prevention Equipment,
Flexible Containers, Pallet Washing Machines, Other

Packaging Systems & Equipment

Packaging Materials, Packaging Machines, Packaging Design & Service Other

Third-Party Logistics

Logistics Solutions, Logistics Consulting, Other

Information Systems & Software

IC Tags (RFID), Barcodes, ID Systems, Printers, Scanners, Sensors, Labeling Systems, POS Systems, EDI Systems, SCM/SCEM, Order Entry Systems, Arrival/Shipment Systems, Inventory Control Systems, Transportation/Dispatch/Delivery Systems, Operation Control Systems, ERP, Logistics Cost Control Systems, Distribution Processing Support Systems, Management Analysis Systems, Intelligent Transport Systems/ Mobile Communication Systems, Load Matching Systems, Other

Engineering & Consulting

Logistics Engineering, Integrated Systems, Simulation, Scheduling Systems, Other

Storage & Transportation Services

Intermodal Transportation Systems, Transportation/Distribution Services, Distribution Processing, Logistics Work Staffing Services, Other

Parts for Logistics Equipment

Motors, Inverters, Tires, Belts, Transmissions, Bearings, Other

Development of/Investment in Logistics Facilities
PR for Attraction of Enterprises & Airport/Port/Distribution Park Utilization Promotion

PR for Attraction of Enterprises, Airport/Port/Distribution Park Utilization Promotion, Other

Logistics Business & Warehouse
Operation Support Systems & Equipment

Safety & Health Products & Service, Operation & Working Environment Improvement, Cleaning & Maintenance Equipment, Other

Risk Management

Earthquake Proof, Base Isolation and Damping Equipment / Technology, Fall Prevention Instrument, Ground Improving, Earthquake Insurance, Emergency Earthquake Warning Systems, Off-grid Power Systems, Storage Battery, UPS (Uninterruptible Power Supply), Temporary Tent & Warehouse, Cloud Environment Building Service, Risk Consulting, Infectious Disease Prevention, Other

Publishing & Associations
Expected Visitor Categories
Top management from all industries in Japan and overseas; people in charge of logistics / physical distribution; people responsible for manufacturing / technology, development / design, marketing / research, information systems, sales / planning, purchasing / stocking and people related to governmental organizations, associations, schools, etc.
Transportation/Warehousing
Retailing/Wholesaling/Distribution
General/Precision Machinery
Transportation Machinery
Electrical/Electronic Equipment
Foods
Chemicals/Energy
Construction/Civil Engineering
Steel/Other Metals
Pharmaceuticals/Cosmetics
Pulp/Paper
Textiles/Apparel
Information/Services
Online Sales
Publishing
Government Agencies/Associations/Schools
Overseas Visitors
PAGE TOP